---
Fable 3 + DLC Pack (2011/ENG/Multi8/RePack by Mondee)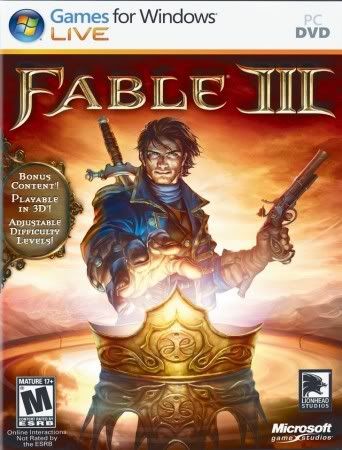 Fable 3 + DLC Pack (2011/ENG/Multi8/RePack by Mondee)
PC Game | Developer: Lionhead Studio | Publisher: Microsoft | 7.37 GB
Genre: RPG / 3D / 3rd Person

Fable III - continued bright vibrant games, which received the highest critical acclaim, as well as approval and the users themselves. In Fable III events occur after the adventure Fable II as much as fifty years. Albion on preparing the industrial revolution, and kingdoms threaten serious danger. In order to occupy the throne in Fable III will have to go through a lot - a bloody battle, will know the pain of loss and love. Any decision that you make will have an enormous impact for all residents of the country and its future destiny.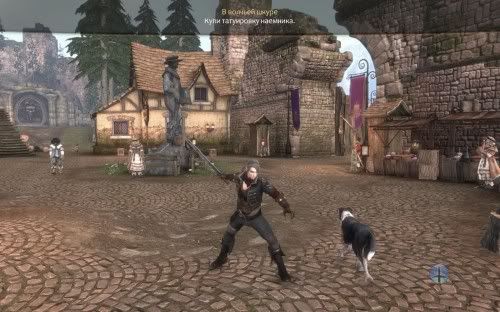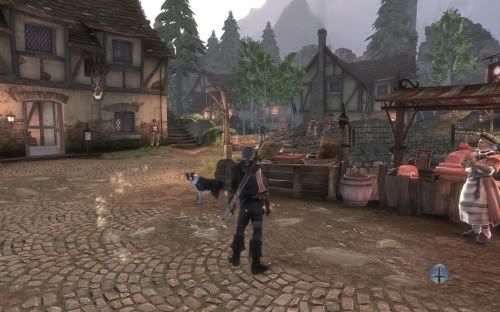 Begins the story of where you are in the midst of events of the game Fable III. As long as you move from a revolutionary to the chair of the ruler will suffer a lot. Exciting, dynamic, dramatic, vivid action will impress any gamer.
Travel time goes on the streets Albina the field, where the self and go through all the major battles. The battle system is innovative and is one click (one-button combat), with which you can combine different styles - in the arsenal of weapons for melee, magic and ranged weapons.
The very principle of the world Fable is that players are given an opportunity to a huge choice, from which depends the fate of all around. Vasch faithful companion dog, you, family, career, PLN and good, all intertwined in this fantastic game, where u live the life which always dreamed of. Each of your choice in this game leads to consequences that affect your entire suschnost.

DLC Pack'a:
Highlander Tatoo Set (Set of tattoos highlander)
Red Setter Dog Potion (Potion of Dogs - Setter)
Female Highlander Outfit (Men's suit Highlander)
Free Yule Hat (New Cap)
Male Highlander Outfit (Female Costume Highlander)
Five Star Dog Potion (Potion dog - 5 stars)
Dye Pack (set of colors (4 pcs.)
Hair Pack (set of styles (4 pcs.))
Free Weapons (Free weapon)
Traitors keep DLC (Supplement - Rebel Fortress)
Understone pack (Set - Podglushvil)

Features RePack'a:
- It is based on a licensed version.
- Do not cut \ recoded.
- Run the game from the desktop.
- Sewn DLC Pack.
- Sewn Update.

Minimum system requirements
Processor: Intel Pentium Core 2 Duo 2,4 GHz
Operating system: Windows XP / Vista / 7
Processor: Intel Pentium Core 2 Duo 2,4 GHz
Memory: 2 GB
Sound: DirectX 9.0c compatible
Video: 512 MB
Free space on HDD: 10 GB


Games pc | Adăugat de: alexu (2011-12-05)
Vizualizări: 1369 | Tag-uri: trailer, Download Descarca, review, cerinte sistem requirement, Xbox 360, download ga, jocuri pc, Fable 3 + DLC Pack (2011/ENG/Multi8, PS3Tags:|Fable 3 + DLC Pack (2011/ENG/Multi8/RePack by Mondee) Online|Fable 3 + DLC Pack (2011/ENG/Multi8/RePack by Mondee) Gratis|Fable 3 + DLC Pack (2011/ENG/Multi8/RePack by Mondee) Torrent|Fable 3 + DLC Pack (2011/ENG/Multi8/RePack by Mondee) Trailer|Descarca Fable 3 + DLC Pack (2011/ENG/Multi8/RePack by Mondee)|Download Fable 3 + DLC Pack (2011/ENG/Multi8/RePack by Mondee) Gratis|Descarcare Fable 3 + DLC Pack (2011/ENG/Multi8/RePack by Mondee)|Fable 3 + DLC Pack (2011/ENG/Multi8/RePack by Mondee) PC|Fable 3 + DLC Pack (2011/ENG/Multi8/RePack by Mondee).tpb||Fable 3 + DLC Pack (2011/ENG/Multi8/RePack by Mondee) Crack|Fable 3 + DLC Pack (2011/ENG/Multi8/RePack by Mondee) HDTV|Fable 3 + DLC Pack (2011/ENG/Multi8/RePack by Mondee) Full HD|Fable 3 + DLC Pack (2011/ENG/Multi8/RePack by Mondee) Blackbox|Fable 3 + DLC Pack (2011/ENG/Multi8/RePack by Mondee) watch free|Fable 3 + DLC Pack (2011/ENG/Multi8/RePack by Mondee) gratis|Fable 3 + DLC Pack (2011/ENG/Multi8/RePack by Mondee) Reload|Download Fable 3 + DLC Pack (2011/ENG/Multi8/RePack by Mondee)|Descarca Fable 3 + DLC Pack (2011/ENG/Multi8/RePack by Mondee)|Fable 3 + DLC Pack (2011/ENG/Multi8/RePack by Mondee) video|Fable 3 + DLC Pack (2011/ENG/Multi8/RePack by Mondee) RIP| | Rating:

0.0

/

0
Download Jocuri Pc|Download Filme Full HD|Download Games PC Full Free|Descarca Filme Jocuri Programe|Download Scripturi PHP|Descarca Gratis|Fable 3 + DLC Pack (2011/ENG/Multi8/RePack by Mondee).torrent|Fable 3 + DLC Pack (2011/ENG/Multi8/RePack by Mondee).tpb|download4u.ucoz.com|Fable 3 + DLC Pack (2011/ENG/Multi8/RePack by Mondee) free